STITCH PACKS
This page provides everything we think you should need to get the most out of your STITCH pack. Everybody will use their STITCH pack a little differently so please don't hesitate to contact us if you have a specific question that we don't answer here. Happy STITCHing!
The contents of your STITCH pack should look a bit like this. Obviously the materials will vary, but you should expect to find an embroidery hoop, a selection of embroidery threads, a choice of fabrics, an instruction leaflet, address label, sewing needle (in a folded piece of card) and an information leaflet to fill in.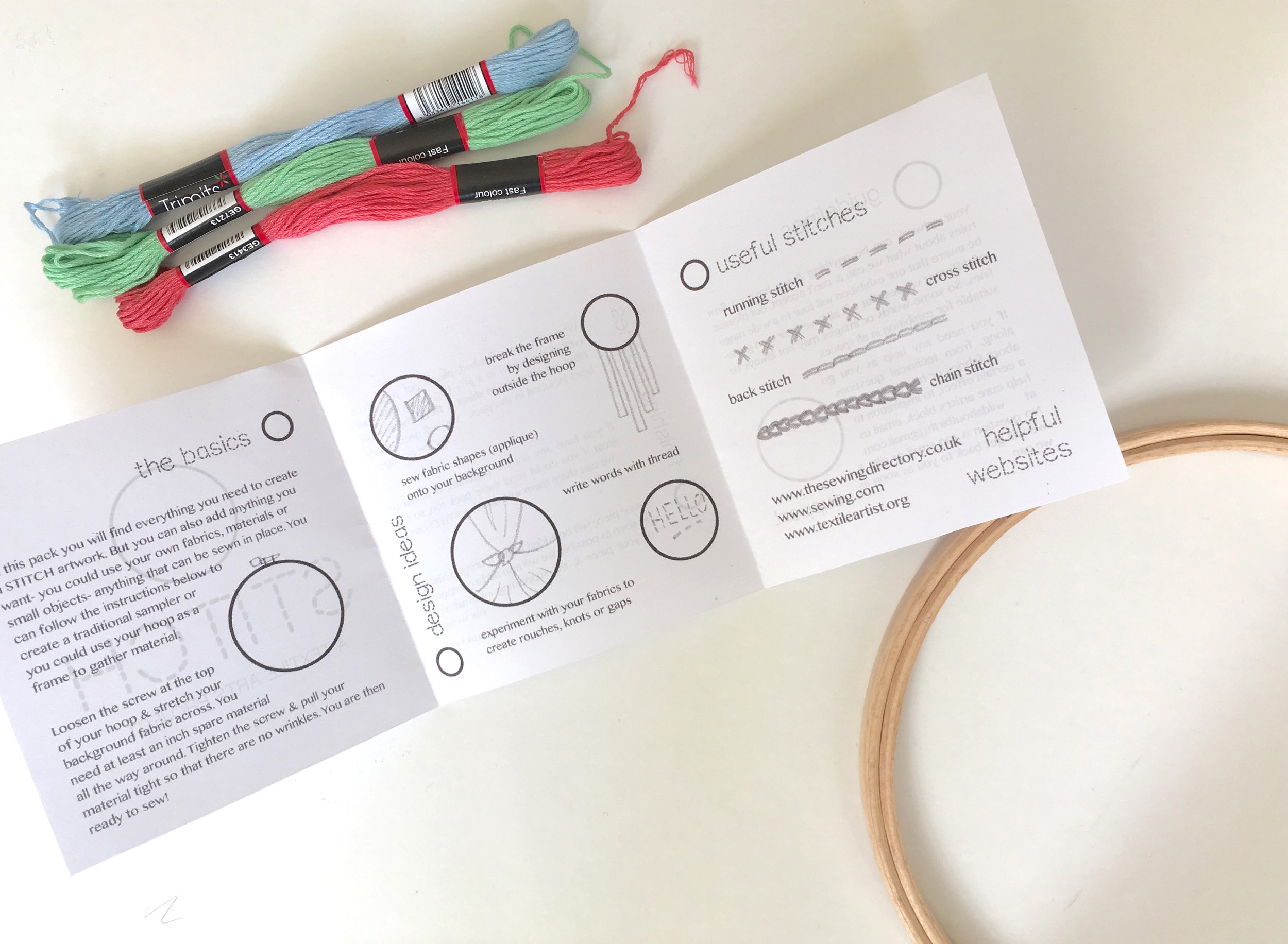 Your instruction leaflet provides most of the information you should need to get started. We have also included some website links to places where you can get some inspiration, and some more expert sewing advice. If you're an expert yourself then please don't be afraid to go off piste- just be sure that it fits our requirements for exhibition.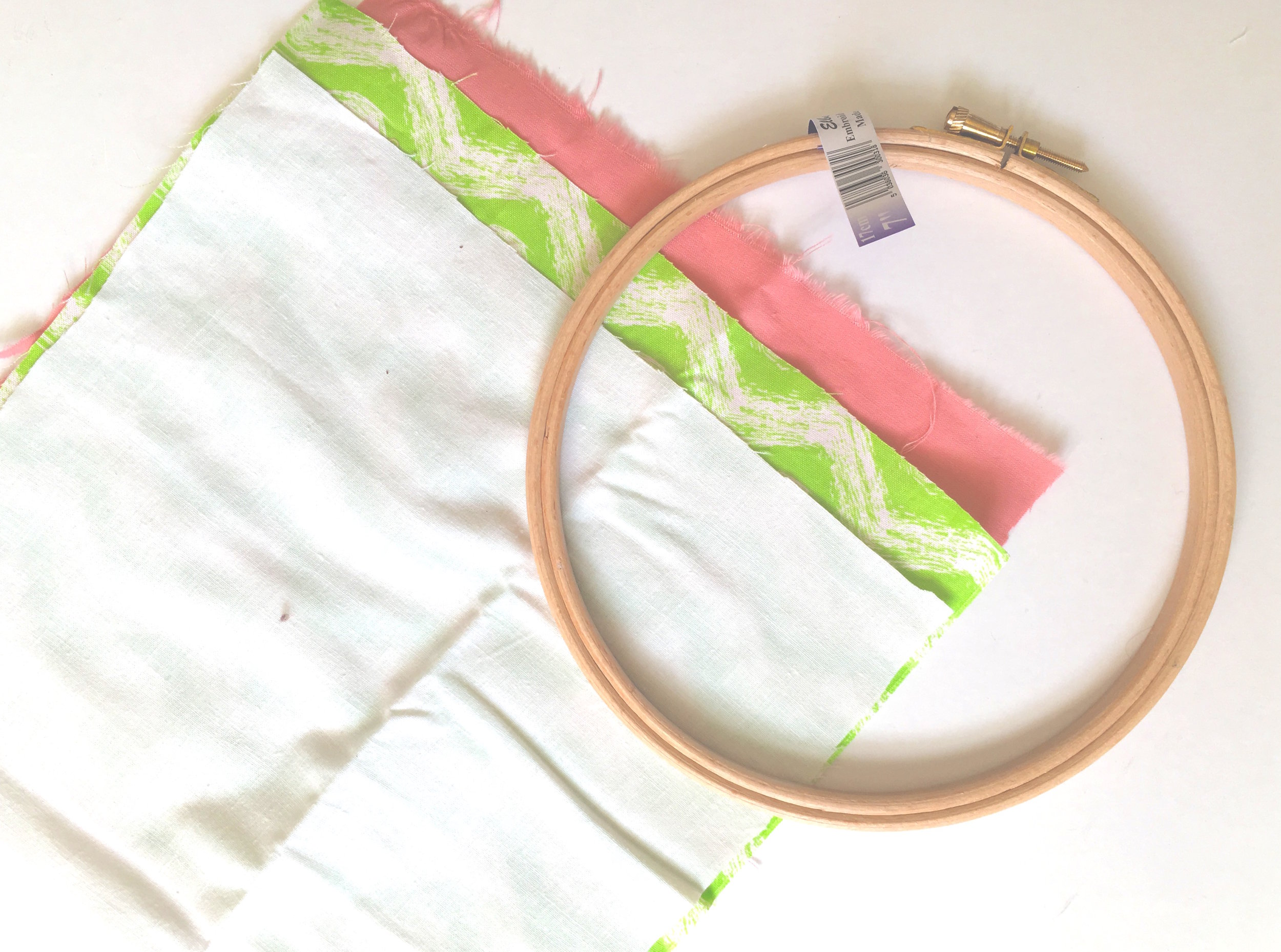 There will be a variety of background fabrics to choose from in your kit. We will always have provided at least two options, and these will be the largest pieces of fabric (big enough to reach across your hoop with an inch to spare all around). Obviously you can use your own background material- we would just recommend not using anything stretchy if you are sewing onto it.
to fix your background fabric in place, loosen the screw at the top of your hoop. You don't need to unscrew it all the way. Once it's a bit looser you should be able to separate the inner and outer hoop. Place your fabric over the inner hoop, and then push the outer hoop over the top, so that the fabric is pinched in place between the two rings. Now you can tighten up the screw again to hold the fabric in place.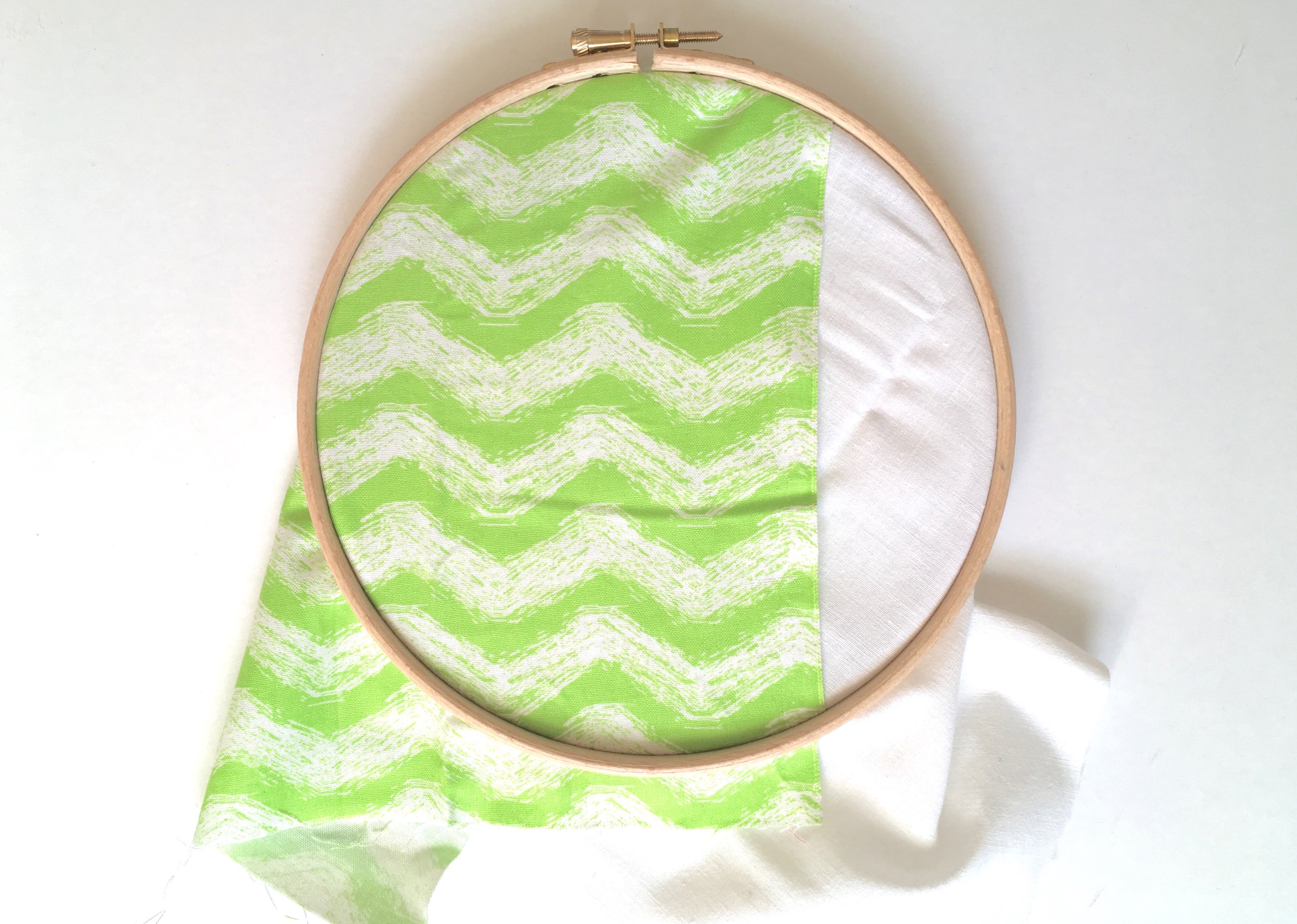 Of course, you can be creative with how you place your fabric(s) and there are lots of different ways you can arrange your material. You can layer multiple pieces, leave gaps, or allow the material to hang down or stick out. Look at our gallery of previous STITCH works for some inspiration if you're not sure which way works best for your design. Some of our STITCH pieces are made up entirely of stretched/arranged fabric without any sewing.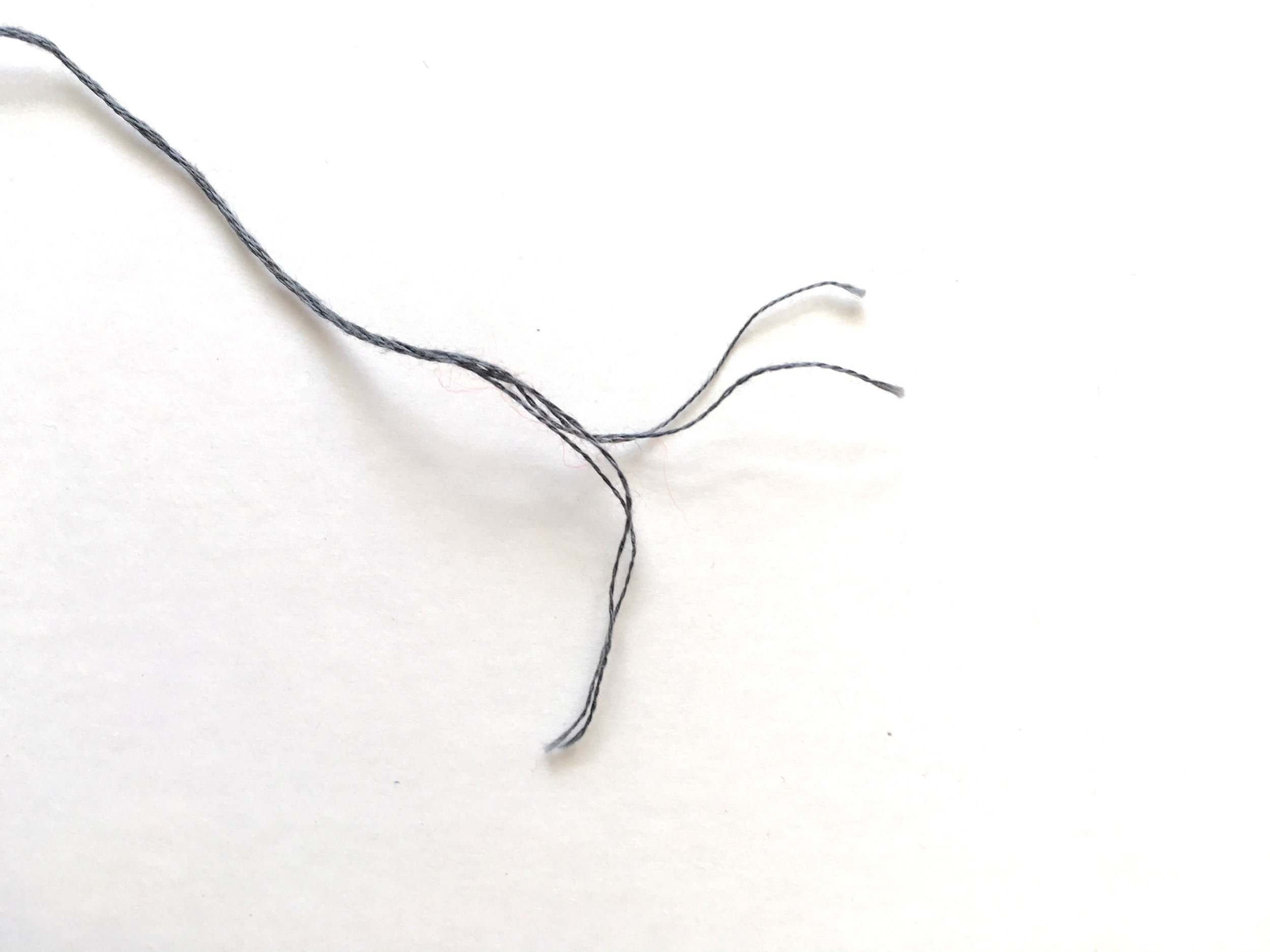 Embroidery thread is made up of multiple strands. Depending on how 'thick' you want your stitches to look, you can choose to work with all the strands, or tease them apart to work with fewer. Simply separate off the number you want to work with and tease them apart, then thread onto your needle. You may struggle to fit very thick thread, made up of lots of strands, onto the needle we have provided.
Now you can add any design elements. This could be embroidering words or shapes, or adding other pieces of fabric to your background. Again, please don't feel limited by what is provided in your kit. Other STITCH artists have added objects, ribbons, buttons, even paper.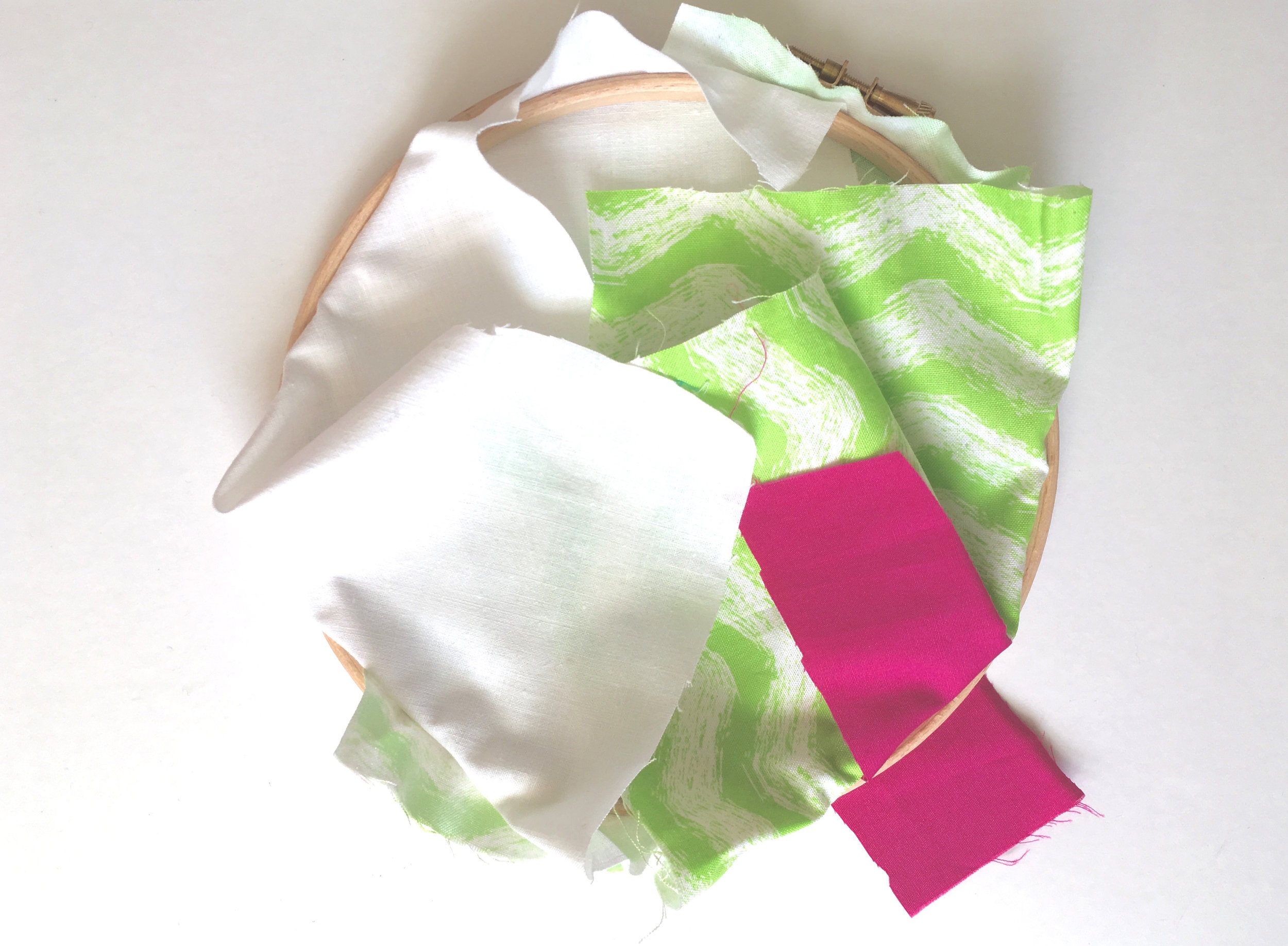 The back of your hoop will probably look a bit like this. You may want to leave all the pieces of fabric trailing so that they can be seen from the front. But if you want to finish off your hoop so that no ends/glimpses of fabric can be seen then you can loosely sew the edges together at the back so that they are pulled in towards the centre.
Once you have finished your piece, you will need to fill in the information sheet that came in your pack. This allows you to add a title and an explanatory paragraph that puts your piece in context. It could be just a few words or a paragraph that tells the story of your piece a little more. Once it's added to the exhibition, the title & explanation will be printed & exhibited alongside your artwork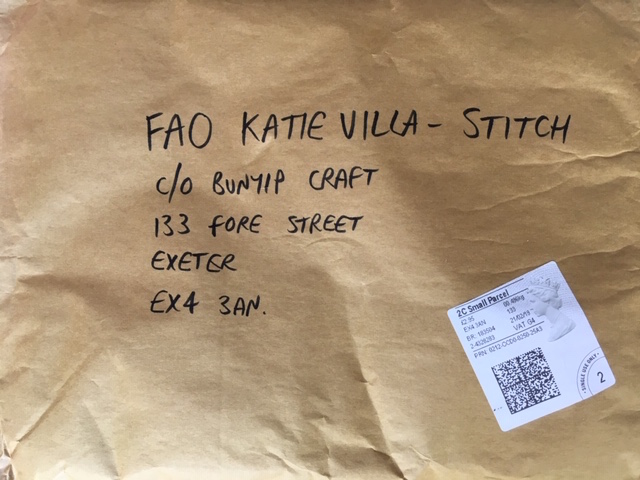 Your artwork is now ready for posting! Place your finished piece, along with your information sheet, inside a jiffy bag. If you're in any doubt about waterproofing, perhaps pop it in a plastic carrier bag first & then inside the envelope. We have provided an address label. We do not have the funds to cover postage, so you will need to cover this.
Once received, your artwork will be prepared for exhibition.
There may be a bit of a delay between you posting your finished piece and seeing it added to the exhibition. We will generally wait until we have around 25 pieces collected before we add them in, due to the costs of printing & preparing.
Don't know where to start?
Try looking at the other works in the STITCH gallery
Think of an object that played a role in your birth experience & use that as a starting point
Write down 5 words that spring to mind when you think of your birth experience